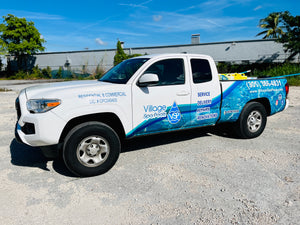 Pool Supplies and Chemicals Delivered
Safe, Convenient and Simple
Take the stress out of transporting heavy and corrosive pool chemicals in your car and let the professionals at Village Pools do the work for you.​
How it Works​
After placing your order, simply leave your empty containers in front of the house and we will swap them out for full ones, also leaving any other chemicals or supplies that you need to keep your pool safe, balanced and beautiful.​
When adding "Liquid Chlorine" to your cart, please acknowledge that you are exchanging your empty chlorine jugs for full ones. If you would like extra chlorine containers, just add "Jug Deposit + Liquid Chlorine" to your cart.​
Free Delivery
All orders $40 and greater qualify for Free Delivery. Orders under $40 will have only a $6 delivery fee.​
When will my Order Arrive?​
Deliveries are made Monday-Saturday.​
All orders place before 11AM qualify for guaranteed same day delivery. Orders placed after 11 AM are either delivered the same day or the next morning.
Our Delivery Range
For now, we can only make deliveries with in a five mile radius of our warehouse address: 12586 SW 128 St. Miami, FL, 33186.​
Free Water Tests​
Just add free water test from the 'free services' section to your cart. You can leave a water sample of at least 8 oz. by your empty chlorine containers to be examined with one of our portable test kits. Then, you will receive an email with your results and the chemicals we recommend you should add.
Our Most Popular Products