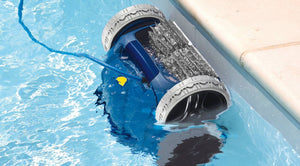 Keep your pool clean each day
Automatic Pool Cleaners
Looking for a reliable way to keep your pool looking great throughout the week? Automatic Pool Cleaners take the stress out of keeping your pool's suface free of dirt and small leaves. And no electricity or extra pump required! These cleaners use the power of your existing pool pump.
Suction cleaners are ideal for pools located in desert and tropical climates with cleaning requirements for fine particles of dirt and small leaves and twigs. They can be installed through the skimmer or on a dedicated line in less than 10 minutes and do not require additional tools.
Give us a call and we'll help you find the perfect automatic pool cleaner for your pool.