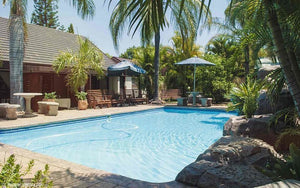 Providing the best maintenance, repairs and advice throughout Miami since 1982.
GET A FREE POOL SERVICE QUOTE
All of our swimming pool technicians are licensed and insured to ensure quality of service.
We take the stress out of maintaining of your swimming pool. And with 60+ years of combined experience in the industry, we have the knowledge and expertise to handle any issue with professionalism.
Interested in weekly pool maintenance, renovations or repairs? Give us a call and we'll find a plan that plan that works you!
Pool Supplies Delivered
No trouble, no mess. Get same day delivery for all the pool chemicals and supplies you need!
FREE DELIVERY in and around the West Kendall Area, and FREE DELIVERY for all orders over $40.Ordering is simple, quick and easy. After placing your order, just leave your empty containers outside and we'll exchange them out for full ones, along with leaving any additional supplies you need to keep your pool beautiful.Interested in weekly pool maintenance, renovations or repairs? Give us a call and we'll find a plan that plan that works you!
Pool Equipment Installation and Repairs
Looking to upgrade your equipment pad? Does something for your pool need to be repaired or replaced? Our team of experienced and knowledgeable swimming pool technicians are ready for any job. By carefully explaining all options to our customers, we can help you choose the best products for any pool project. Some of the types of equipment we install include: 
Single Speed and Variable Pool Pumps
Motors  
Filters 
Heat Pumps and Heaters
Salt Chlorine Generators 
LED Lighting 
Automation 
Water Features
Pool Resurfacing and Renovations
Your backyard should be an escape from life's stresses. That's why we take every resurfacing and renovation job with the utmost professionalism to ensure your pool deck is both beautiful and long lasting. Our renovation team specializes in best-in-class Diamond Brite resurfacing, coping, tiles and patio work so you and your family can enjoy your pool with ease.
LET THE CUSTOMERS SPEAK FOR US!
★★★★★

Hired them after using a company that was unable to keep pool clean and unable to diagnose problems with pool. When we first caleld they came out the same day to diagnose the pool. They fixed leaks for very affordable price. 👏
★★★★★

Mitch Reyes gives Village Spa & Pools a 5 stars rating.
★★★★★

I have been using Village Spa and Pools for many years. They are a very reliable and Professional pool company. They keep my pool clean and service all year round.
★★★★★

We've been with Village Spa for twenty years. They've always provided great service and personal attention. Just recently, they resurfaced our pool and did an excellent job!